SIMPLE AND EFFECTIVE 
 LIGHTWEIGHT RESERVE CONTAINER
A lightweight reserve parachute container should be non-intrusive, easy to install and safe to use.

It's a statement that seems obvious, but it's far from unanimous among all the products on the market.

So we decided to design our own for personal use.
POLYVALENCE


To adapt to the wide range of rescue parachutes on the market, we worked on the fabric panels. They were shaped, pinched and assembled to fit the exact shape of your folded rescue parachute. The fabric has been selected to offer a high-performance weight/durability ratio.

- S for modern ultra-light parachutes such as the GIN Yeti UL S.
- M for GIN Yeti #27, Skywalk Pepper Cross 90 or UL Yeti M + L, for example.
- L for GIN Yeti #35 and #40 parachutes or Pepper cross 110 and 135.

- Tube, the universal version, for all types of light parachutes.

ITS ADVANTAGES 
- The rescue handle is easy to see and grasp. The force required to extract the reserve complies with EN standards.

 - The position of the container's attachment points to the harness prevents it from interfering with the pilot during take-off and in flight. It also makes the handle more visible. The platform for reading your flight instruments is effective when installed on the velcro of the upper reserve flap.

- The "one attachment point" system is simple: before takeoff, you connect the container to the harness with a single attachment point on each main carabiner. No need to attach risers, and after the container, no risk of forgetting one.

- The size of the chest strap can be precisely adjusted in flight.

- The NEO container fits NEO harnesses, as well as those of other brands.
- As with all NEO products, superfluous weight or design features are not included. The lightweight container is durable and weighs just under 100 grams.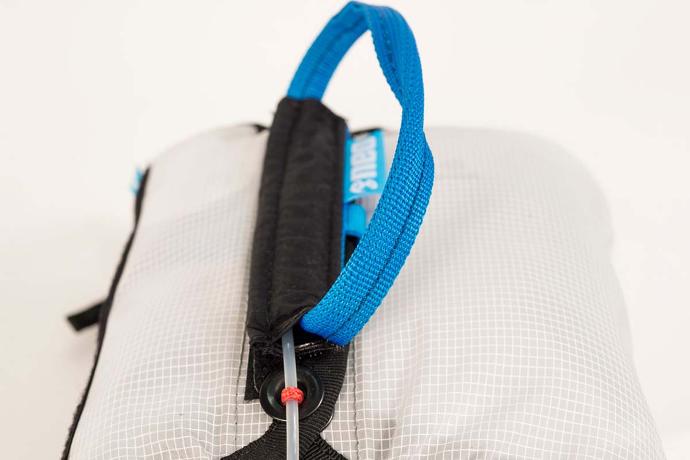 TECHNICAL DATA
Technical description of the product
CONCEPT
4-flap rescue parachute container for paragliding and speedflying
WEIGHT
90 g (without rescue bridles)
VOLUME
3.2 L / 4.0 L / 5.3 L / 7.7 L
OPTION
Separate bridles 125 cm 

MAIN MATERIALS
Ripstop dyneema origin Europe
---
SIZE CHART
Find the ideal size for your container based on the model of your rescue parachute:
SIZES

VOLUME

DIMENSIONS

RESCUE MODEL

S LIGHT
3.2 L 
21X17X9 cm
Supair Xtra light #XS, Nervures Plum #S, Sky Lite #M, Yeti UL #S
M
4 L 
21x19x10 cm
GIN Yeti #27, Skywalk Peper Cross #90, Nervures Plum #M, Sky Lite #L, Advance Companion SQR light #100, GIN Yeti UL #M + #L
L
5.3 L 

24x20x11 cm
GIN Yeti #35/40, Skywalk Pepper Cross #110/#135, Nova Beamer Light, Sky Light #L, Advance Companion SQR #100/#120, light #120, Supair Shine #S/#M, Nervures Plum #L
TUBE
7.7 L

30x16x16 cm
Classic rescue S, M et L such as :
Supair, MCC, Sky, Sol RS33, Niviuk Cires 110, Turnpoint Incase 3.0, GIN Yeti Cross
---
DOWNLOADS
Technical documents

 
DESIGNED AND MANUFACTURED IN FRANCE
NEO harnesses, wings, bags and accessories are entirely made in France in our workshop on the shores of Lake Annecy. This choice of local production, as part of a participatory approach, allows us to offer top-of-the-range products.