TECHNICAL DATA
Technical description of the product
TYPE
Ultra-light harness, perfect for hike and fly
CONCEPT
Ultra light harness, compact, comfortable and durable

WEIGHT
230 g (S) - 240 g (M) - 250 g (L)
GEOMETRY
Leg straps ABS – NEO System
CERTIFICATION
EN 1651 - 120 kg / LTF / CE
OPTIONAL PROTECTION
Certified NEO String Airbag
OPTIONAL CARABINERS  
AUSTRIALPIN Rocket (64 g)
OPTINAL ACCESSORIES
NEO String speedsystem / NEO Front container / NEO String Airbag
MAIN MATERIALS
Dyneema Ripstop, HMPE webbing, Hypalon, PE foam


MATHIAS FRANCOU
R&D TEAM
"
Innovation is in our DNA: finding the technical improvement, the new material and the assembly that will make the difference. Challenging ourselves is a source of motivation for us. The String 3.0 is the result of our conviction that the best is yet to come!
"
---
LIGHT AND DURABLE


Lightweight by its construction but not by compromises on materials, that was our goal. The String is therefore made entirely of Dyneema ripstop fabric, which is highly resistant to tearing and deformation. Its structure is made of HMPE (high modulus polyethylene) webbing: the strongest and lightest synthetic fibre. The NEO String is very strong, ultra-light and durable.

COMFORTABLE


The comfort of the String has been greatly improved by pre-forming the pieces of fabric to best fit the shape of the body. The leg loops closely follow the contour of the thighs for perfect support of the  legs in flight. The unique ABS thigh-high geometry, which has made NEO's reputation, provides the stability and precision necessary for the pleasure of flying.
You don't change a winning team, the String in its third generation doesn't slip on: the thigh and belly straps close directly into the main carabiners.
2 clicks and the pilot is ready to fly. No adjustments to worry about, the String takes care of all the necessary comfort.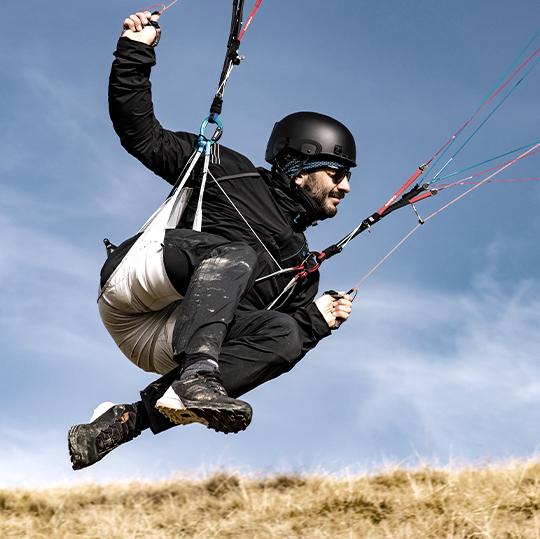 COMPACT
Ultra compact, the String does not take up any space in the bag and no rigid parts are likely to break or get damaged when folding. It can easily fit inside the helmet, in its pocket.

SAFE
Safety is a primary point on this type of harness, which although ultra-light, must be forgotten in flight but validate all the safety issues. NEO recommends the use of NEO-AUSTRIALPIN Rocket automatic carabiners.
OUR AMBASSADOR AND X-ALPS PILOT
MAXIME PINOT 
During my pure climbing trainings, I always leave with a small bag on my back, compact, but with all the necessary equipment to descend quickly in flight: the choice of the ideal harness, the String 3.0 of course!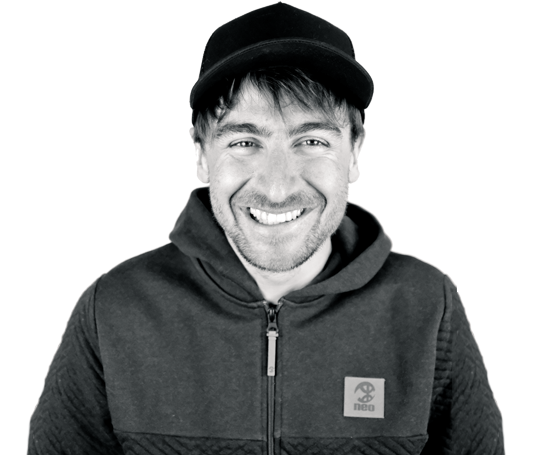 SIZE CHART
Find the right size of your String.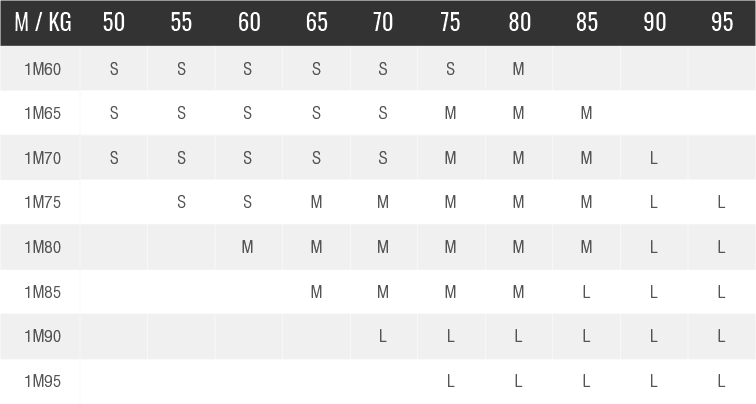 DESIGNED AND MANUFACTURED IN FRANCE
NEO harnesses, wings, bags and accessories are entirely made in France in our workshop on the shores of Lake Annecy. This choice of local production, as part of a participatory approach, allows us to offer top-of-the-range products.