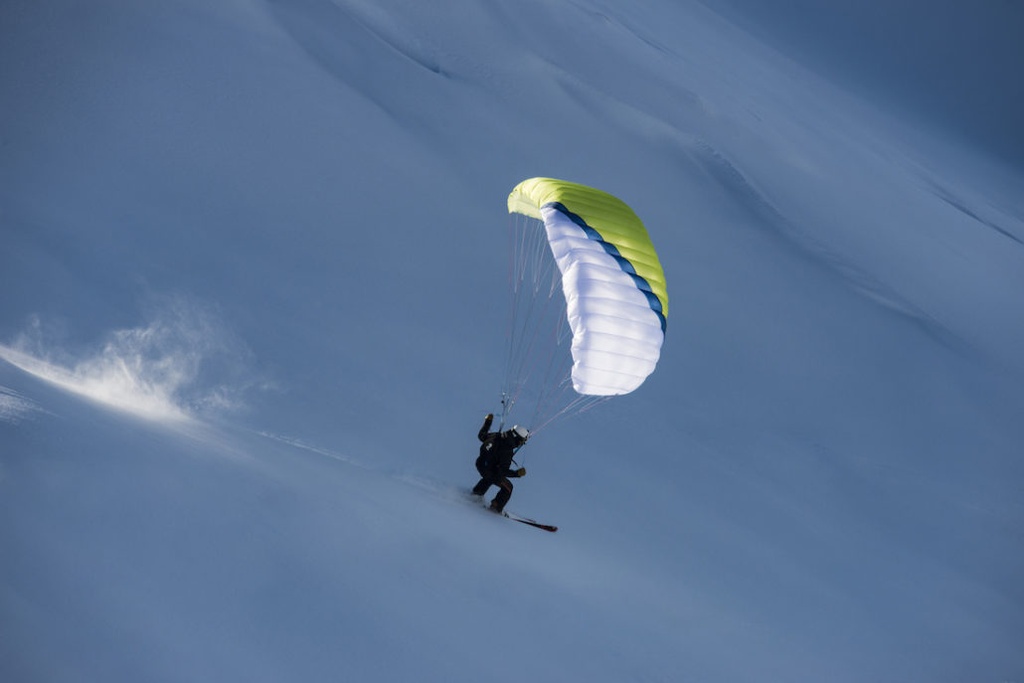 PURE EFFICIENCY IN
SPEEDRIDING
 SPEED RIDING EXPERT
The objective of the X-Ride version 1 was to obtain the most efficient tool for speedriding: a wing that is not saturated with speed to avoid coming back too quickly on a flat glide and at the same time simple to ride. The objective was met, the wing was a great success. For the 2.0 version we kept this efficiency and pushed it to its maximum.
The X-Ride has gained a reputation as the wing which "followed" the riding skier naturally, even at very low speeds. The energy retention and dynamic take-off abilities are also at the peak of today's speedriding performance. So, what can be improved? There are a few critically important details that have been evolved: Version 2.0 is more docile, for even better performance while riding on snow. The rider is able to choose direction and timing of freestyle maneuvers / tricks with even more flexibility thanks to the wing being less sensitive to roll and pitch. The turn is more progressive and more fluid, for smoother lines. In difficult conditions and turbulent air, the energy retention is higher translating to earlier lift in the brake range with greater effect. Finally, the X-Ride 2.0 is lighter with lower pack volume. 

Risers

2 risers options:
- 3 liner with 8 cm trimmers 
- 2 liner + S.A.S* with 4 cm + trimmer with 4 cm
Trimmers

Trimmers are located on the back of the riser, and are adjustable in flight. 
Fabric

We use the "Everlast" double coated fabric from Porcher Sport, manufactured less than 2 hours drive from our workshop. We are the first to use this fabric on mini-wings.
Plastic reinforcements 
Plastic reinforcement for improved durability. They replace the Mylar which creases too easily. This reinforcement is an ideal thickness and hardness for the practice of speedriding.
Markers

Markers on the centre of the canopy on the leading and trailing edges, to make launch preparation and ground handling easier.
Lines
Cousin Ultimate lines, for easier handling and preparation.
Brake handles

Ergonomic wooden brake handles
Reinforcements 
NEO speed wings are built with the strongest attachment points and the best reinforced wing structure on the market.
S.A.S
The NEO Steep Active System S.A.S., allows direct pilot input for steep dives and calculated arc recoveries. It allows the pilot to manoeuvre on steep terrain, and to fly straighter freeride lines. The S.A.S is super efficient but more demanding; it is needed to anticipate the shape of the slope in advance.
DELIVERED WITH YOUR GLIDER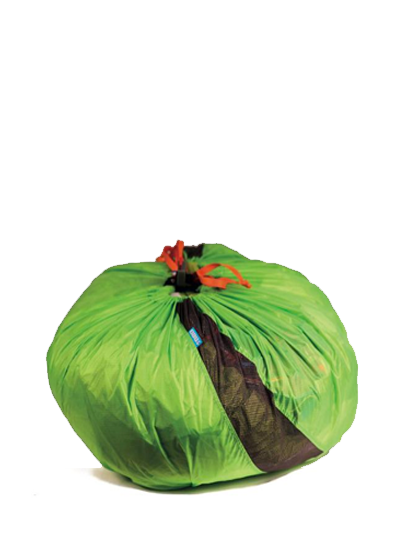 NEO Speed Pack
CONCEPT






For expert riders and for competition et pour la compétition according to wing loading.
WEIGHT
1,8 kg / 2 kg / 2,3 kg
GEOMETRY
4 upper-line layout gathered in 3 main lines, internal structure with diagonal and tension bands, leading edge with plastic rods.
CERTIFICATION
6G Load test
MAIN MATERIALS
Skytex double coated 42 g, Cousin ultimate Dyneema, Technisangles 22 mm, Maillons Péguet. Origin Europe.
OPTIONS
 SAS system, NEO Classic bag 60L
---
TECHNICAL DATA
Sizes




Area (flat) (m2)






A.R (flat) 






Cells
  


 

Glider weight (kg)
  


 

Load test
  


 
---
PRACTICE STYLE

Sizes




Practice style






Required experience / Pilot weight 





#8

 

Expert, Comp






Racing pilot





#9

 

Expert use, Freeride



 

Expert


 
#10

 

Expert use, Freeride


 

Very experienced, heavy expert




---
DOWNLOADS
Technical documents
 
DESIGNED AND MANUFACTURED IN FRANCE
NEO harnesses, wings, bags and accessories are entirely made in France in our workshop on the shores of Lake Annecy. This choice of local production, as part of a participatory approach, allows us to offer top-of-the-range products.