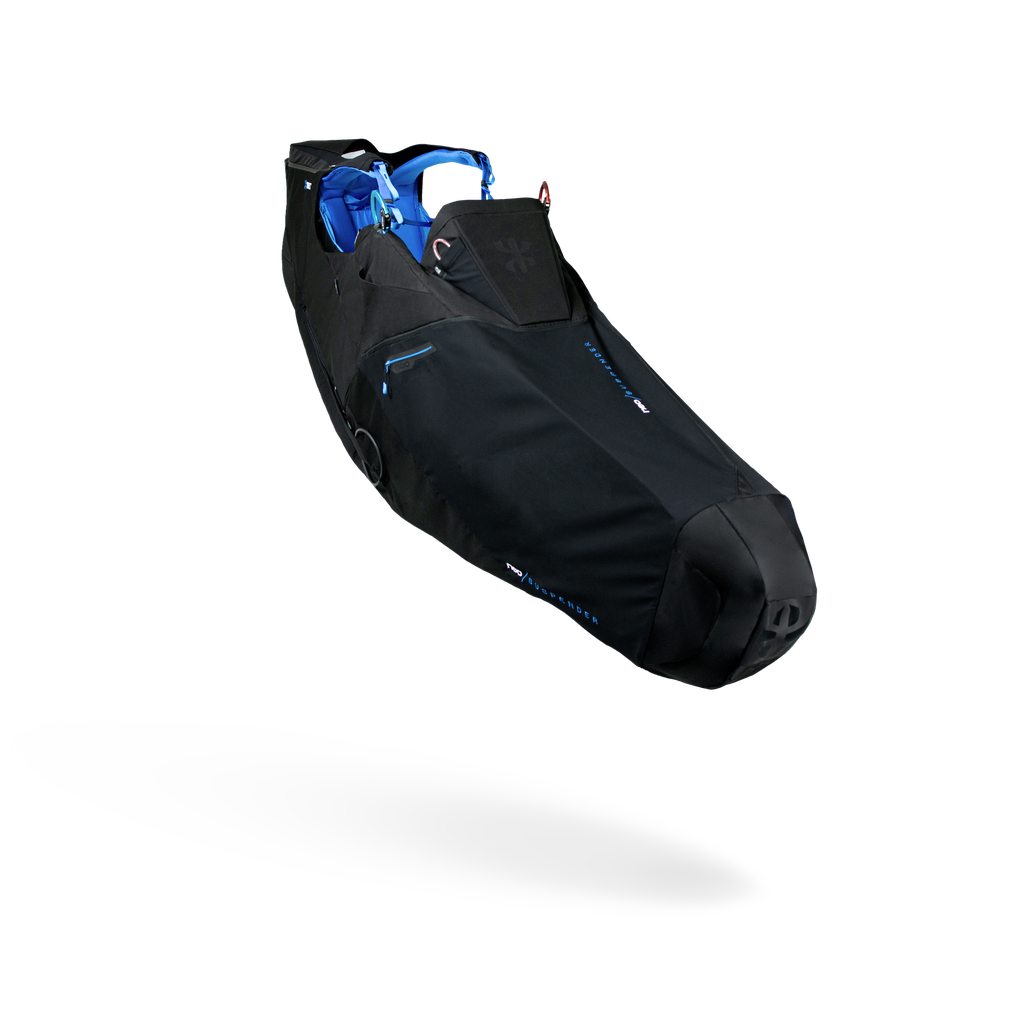 THE SUSPENDER
 XC POD HARNESS
2018 : NEO created a new type of pod harness, the Suspender: a bucket seat harness that is light, stable, steerable, precise, comfortable, and accessible. 
The geometry of the Suspender became a reference.

2023 : Version 2.0 is available. Based on the same principles, we worked for 3 years to improve our high-end cross country pod harness.
The Suspender 2.0 was designed for cross country pilots who fly often, but also for those starting.
"Comfortable as a couch", in the air as well, and very accessible to pilots new to pod harnesses.
Several technological innovations and accessories provide maximum safety to the pilot.
The harness is entirely made in France, at NEO's workshop on the shores of Lake Annecy, which guarantees a top-of-the-range finish, durability, and efficient customer service.
TECHNICAL DATA
Technical description of the product
TYPE
Semi-light paragliding cross-country harness.
CONCEPT
3D bucket seat concept integrating the NEO-Koroyd protection for more comfort, rigidity, carve in turns, and performance.
WEIGHT
4.65 kg (size M). Included: 3 automatic carabiners, rescue handle, protection, rescue bridles.
GEOMETRY
Classic ABS with 2 buckles. Safety Get-Up system.
CERTIFICATION
EN1651 + LTF 09 + CE
MAIN MATERIALS
- Fabric: Polyester / Polyamide; stretchy fabric: sandwich Lycra/Filet
- Webbing: Dyneema, Mesh3D polyester, Hypalon
- Removable footpad: carbon
PROTECTION
NEO-Koroyd technology
- 8 cm thick, 300 g
- EN/LTF/CE certified at 30.8 g
BUCKLES 
- Automatic: AustriAlpin Cobra
- Adjustments: NEO 20 mm Aluminum
RESCUE
Container dorsal, système breveté STAND-UP
SIZE CHART
Find the right Suspender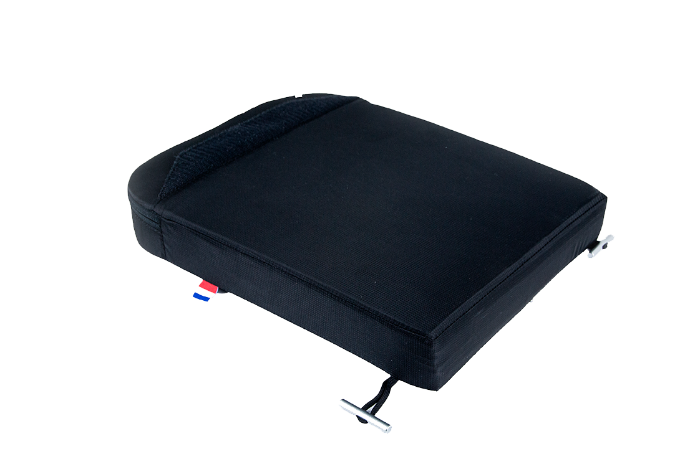 ERIC ROUSSEL
R&D TEAM
"
 « Harnesses must first of all flywell, and rucksacks must havegood support. »
The goal is therefore to provide pilots with a harness that's very stable, fun, and precise in turns.
"
---
GEOMETRY 
CLASSIC ABS


Basic work was done on the geometry and the seat, 
To match our philosophy: 
« Harnesses must first of all fly well, and rucksacks must have good support. »

On the Suspender 2.0, the focus of our work was:
- Choosing and precise adjusting a "classic" ABS: the Suspender can be flown with high aspect ratio gliders that require ABS (Anti Balance System) for a more precise handling in thermals and glides like on rails.
- Better ABS to dampen a symmetric shooting in thermals and sudden wingtip surges.
- Roll is managed with fine adjustments to the chest strap width.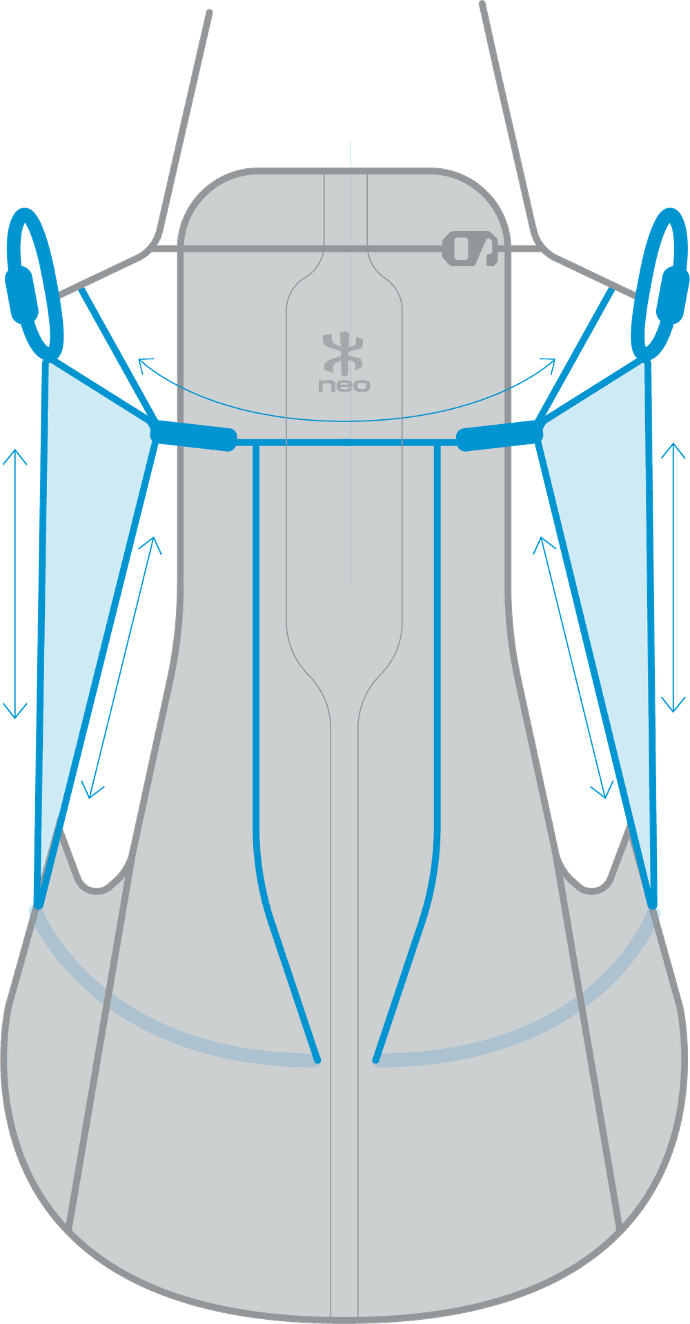 GEOMETRY 
A UNIQUE ADJUSTMENT
The chest-strap setup (between 42 and 49 cm) has a big impact in roll.  
Two NEO tags serve as reference: when overlapped, they indicate a width of 45 cm.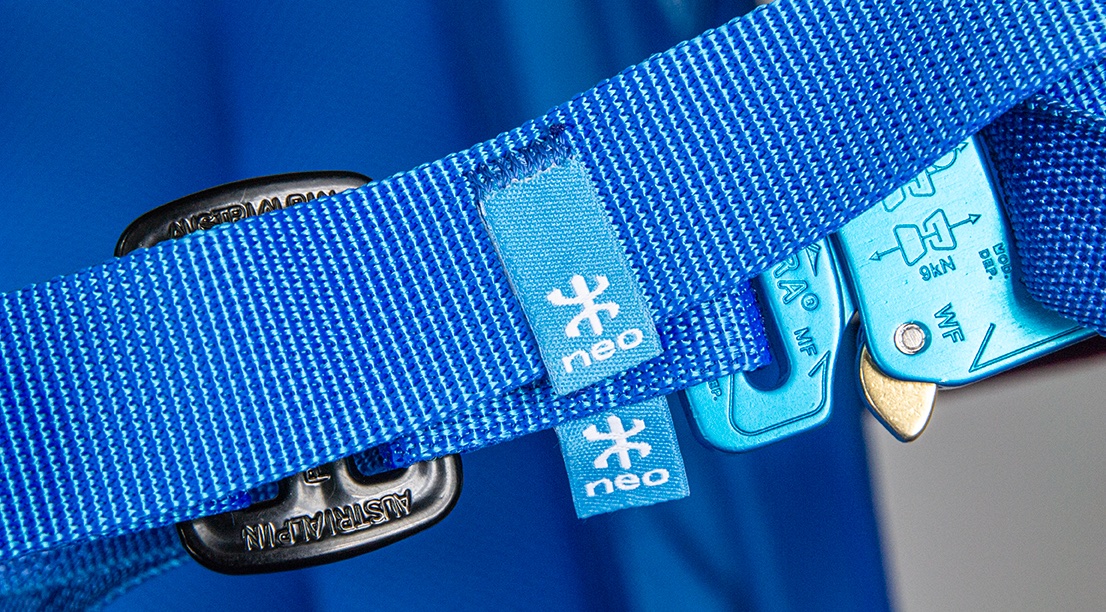 GEOMETRY 
A PERFECT BALANCE


- Perfect placement of the center of gravity, the base to design any harness, for balance and stability.        
- Perfect adjustment of the longitudinal balance to manage yaw.
- Perfect overall balance to find the right compromise between stability, feedback of the airmass, turn start and management.
- The geometry stays fully active regardless of the flying speed.
GEOMETRY 
IN FLIGHT



- More dynamic turn start than version 1.0.
- External thigh support to retain the turn energy allowing to carve it.
- Better stability and behavior on speed.
- Ultra-precise turn management.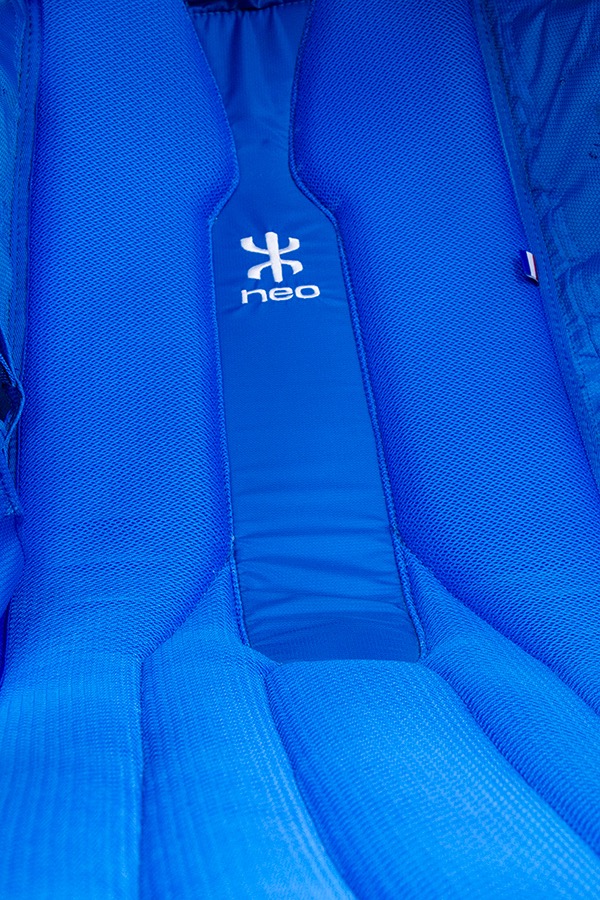 NEO 3D BUCKET SEAT
3D PRE-SHAPED SEAT
The Suspender is a pod harness that's different from the rest.
It's a bucket seat: a hybrid between a hammock and a seatboard harness.
We integrated a NEO-Koroyd,that provides precision, rigidity from halfway up the seat to the upper back, and prevents the turn energy from dissipating.
NEO 3D BUCKET SEAT
PRE-SHAPED SEAT COMFORT
- Unmatched comfort in a paragliding harness.
- The balance between the bucket seat and the pod allow the upper body and legs to relax. 
- The comfort and precision of a competition harness in a light and compact package.
- The back rigidity allows the pilot to fly with loose shoulder straps and prevent back fatigue on long flights.
- Better foam density on the seat, for improved comfort on long flights.
- Easy and precise adjustments: on the side, depth/lower back, chest, shoulders, and upper chest.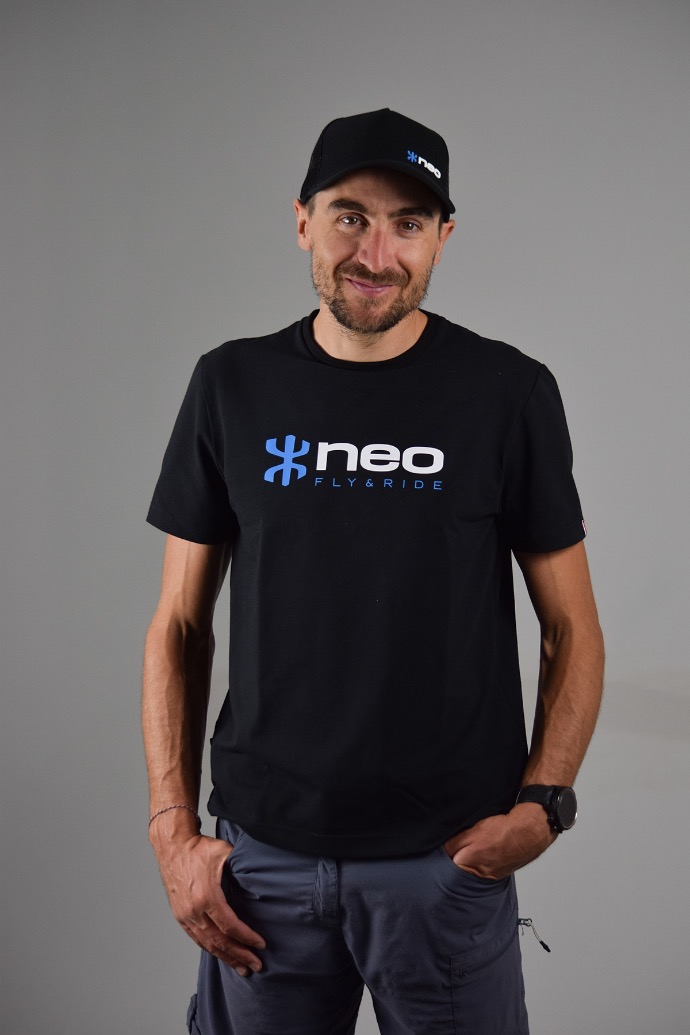 MAXIME PINOT

NEO AMBASSADOR - WORLD CHAMPION 2023
"On July 20, there was finally a window for an XC flight and totest at last the final version of the Suspender 2.0. I went to the NEO workshop to pick up the machine and headed to La Sambuy.
Once I was comfortable in the harness, my instruments were perfectly placed on the cockpit right away, and I was able to go for a morning ride along the east faces of the Bauges Massif.
I immediately felt the comfort, along with great roll stability, even in harsh thermals and turbulent slopes.
In thermals, the harness settles in the turn and doesn't come out. The Koroyd protection offers an additional seat board effect for a clear and precise support.
After the long glides on the east faces, using the speed bar was a real pleasure. The self-blocking pulleys provide real comfort and their placement doesn't change the pilot's position. It's perfect for ambitious cross-country flights.
After 7 hours flying and 220km, I finished my exciting great test flight of the Suspender 2.0!"
SPEED SYSTEM
MORE EFFICIENT AND COMFORTABLE

On this 2.0 version
, c
omfort was significantly improved.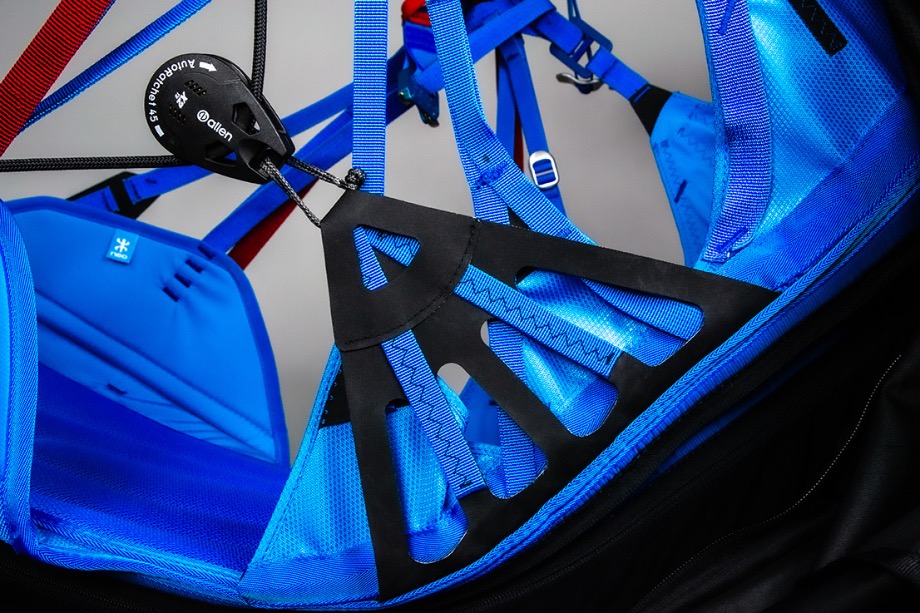 Extra-large hypalon pulley attachment point on the bottom.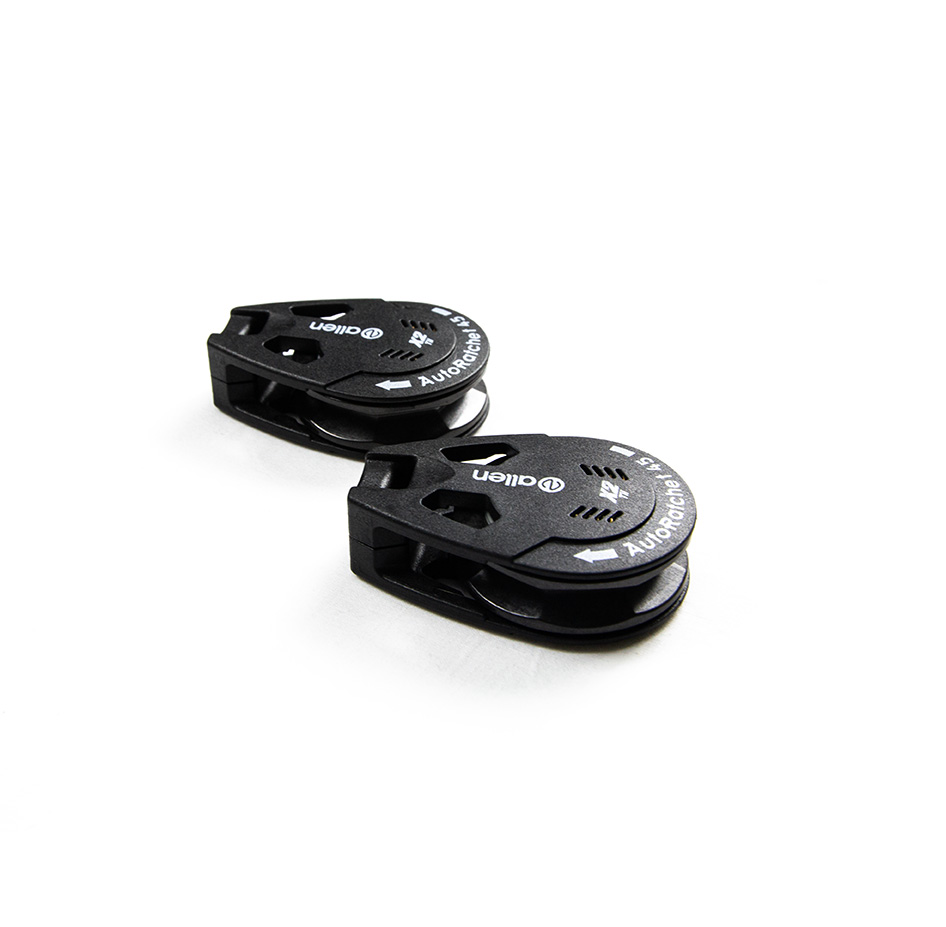 Allen Brothers Auto-ratchet pulleys
Sheave size 40 mm

Auto-ratchet pulleys reduce pressure and provide precision on bar. 
5 mm speed lines 
Anti-wear sheathed 
Low strain
Eco-friendly BLUE SIGN product
Removable brummel hooks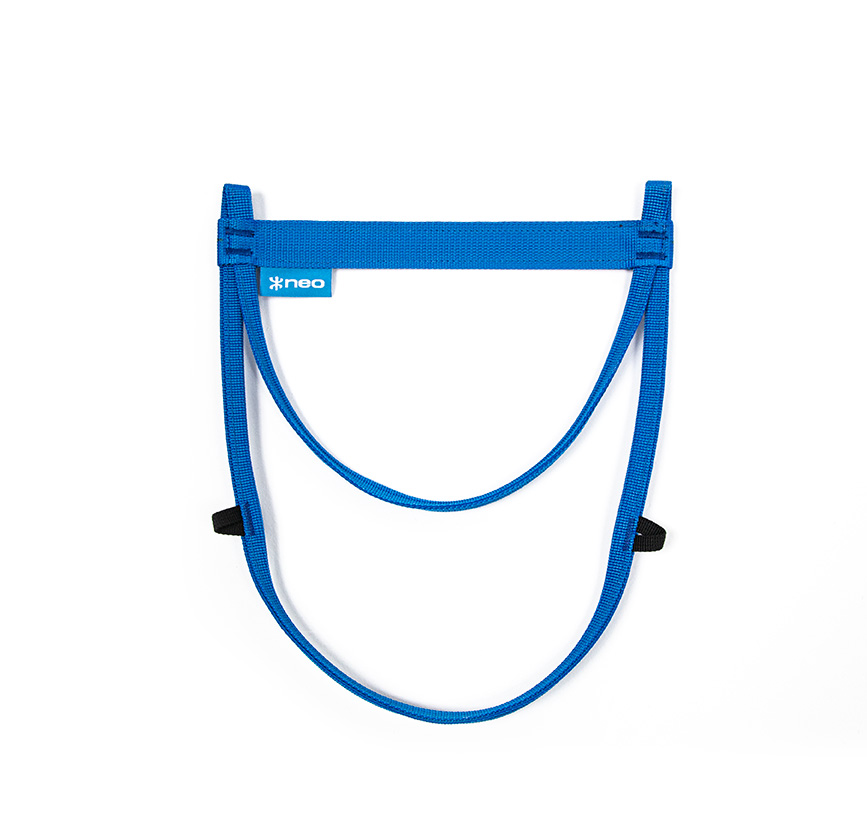 Accélérateur 3 barreaux sur son plan de glissement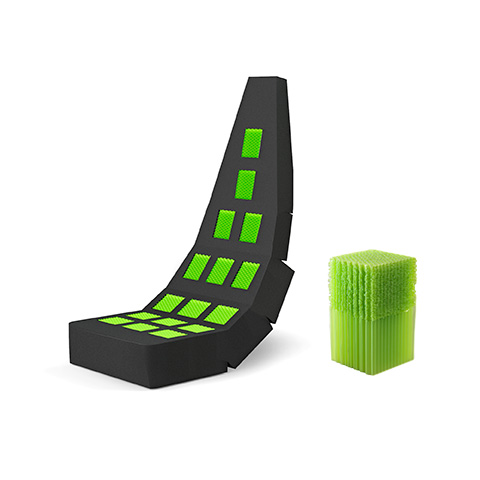 La protection NEO Koroyd 3.0 apporte la rigidité longitudinale du baquet pour garder son cap en vol accéléré.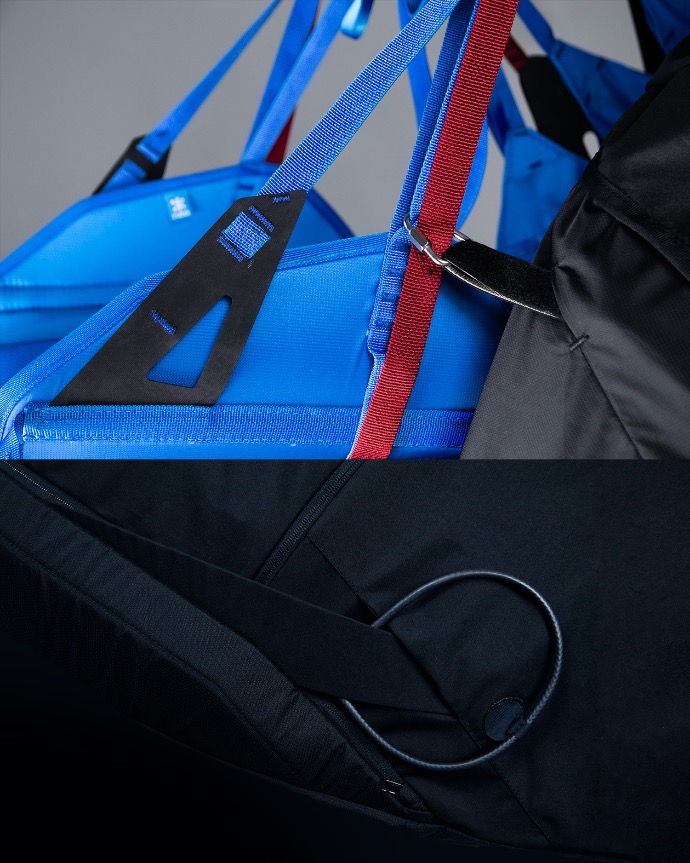 ACTIVE SAFETY

Same basic in-flight active safety features as in version 1.0:
- The Suspender can be flown in a sitting position and provides support right after launching or in turbulence.
- The geometry provides peace of mind thanks to its stability in turbulence or during an incident, and facilitates active flying.
- Effortless and easy-to-find rescue handle placed on the axis of the main carabiner.
- Large back rescue container for easy extraction.
- Easy to step into the pod.
- G-chute pockets (left or right) are easy to access and have a passage to connect the drag chute to the main lower strap.
PASSIVE SAFETY
BETTER TECHNOLOGY FOR FULL PROTECTION
On this 2.0 version
, c
omfort was significantly improved.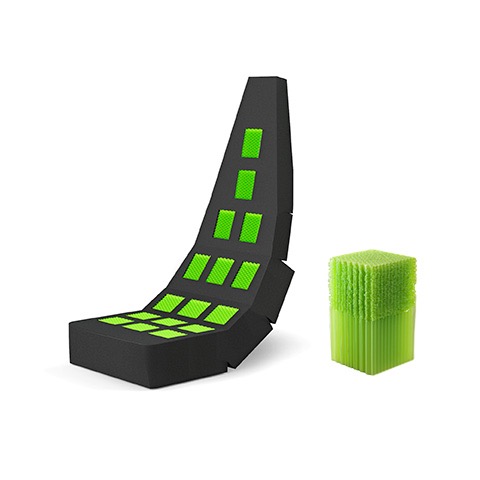 NEO-Koroyd 3.0 
 - 8 cm thick, 300 gr.
-  certification EN/LTF : 30,8 g.
 Protects the entire spine.
More information about the Koroyd technology:

---
5
CERTIFICATION LABORATORIES AND TEST CENTERS


EN / LTF09 
Air Turquoise / Para-test.com, Villeuneuve, Switzerland


CE
CRITT, Chatelleraux, France 


Gforce Trainer GmbH, Dallenwill, Switzerland


Development and flight tests
Bagnière de Luchon, France
Flight test validation
Saint-Omer, France
STAND-UP RESCUE SYSTEM

PATENT N° FR 2 300 536
PARACHUTE OPENING AND DOWNPLANE

Without pilot intervention during the opening of the reserve parachute, the probabilities of a downplane are high, and the paraglider will place itself opposite to the parachute.
THE PROBLEM: LANDING ON YOUR BACK

If the pilot throws reserve at low altitude and doesn't have enough time, or if they're unable to disable the glider (due to twists, for example), a downplane will occur.
The distance between the shoulders and the main attachment point creates a lever effect, placing the pilot horizontally on their back. The pilot follows the fall, not being able to react, with an inevitable impact on the back.
LA SOLUTION : LE SYSTÈME STAND-UP
The System STAND-UP Rescue System The STAND-UP system by NEO helps avoiding this stretched position, regardless the flying configuration.
The attachment points are now located at the glider's attachment point.
"STAND-UP" MEANS: THE PILOT SITTING UP AUTOMATICALLY

The STAND-UP Rescue System allows the pilot to sit up and land sitting dow nor standing up, their choice. It is up to the pilot to choose their arrival position to the ground. While sitting down like on a chair, the action to stand fully up is extremely simple.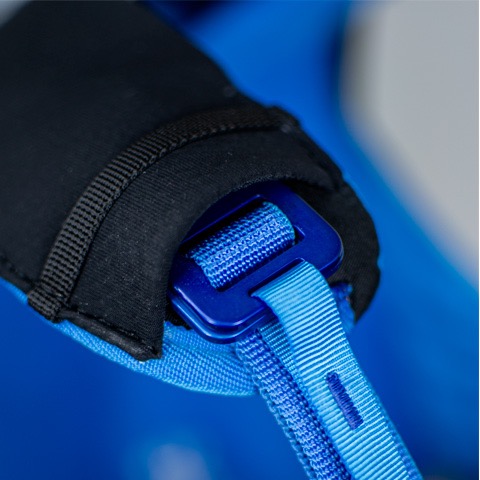 NEO 20 mm Aluminum 2047 adjustment buckles made in Haute-Savoie (FR).



AustriAlpin Cobra (AT) automatic buckles.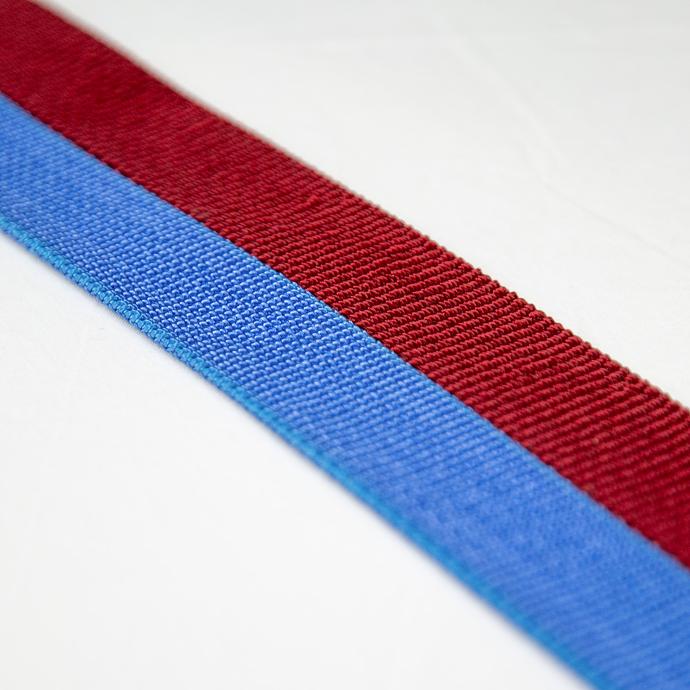 New Dyneema/PES 20 mm webbing developed exclusively by Technisangles (FR) for NEO. 
Kit hélico: paragliding associations and rescue teams recommend carrying a kit for helicopter winching. 
Safety Get-Up system: 

2 automatic buckles paired to the pod closing to remind pilots to attach themselves. 
The Suspender 2.0 is one of the first NEO harnesses to incorporate a microchip. Booomtag®. Booomtag ® is an NFC (Near Field Communication) chip with information about your product. It is located close to the carabiner on the right side of the harness. By scanning it with your NFC smartphone, you can:  
- Register the product to prove ownership by creating a free  Booomtag® account,
- Provide your emergency contact information (3 SOS/ICE numbers per account),
- Report if your equipment is stolen or lost and the person who finds the equipment can contact you. A change of ownership can only be registered with your consent,
- Access to documents and technical information such as user manuals,
- Receive important information about the product(tips, safety notices, etc.),
- Upload the product invoice so you'll never lose it. 
9 POCKETS
MANY DEDICATED AND GENERIC POCKETS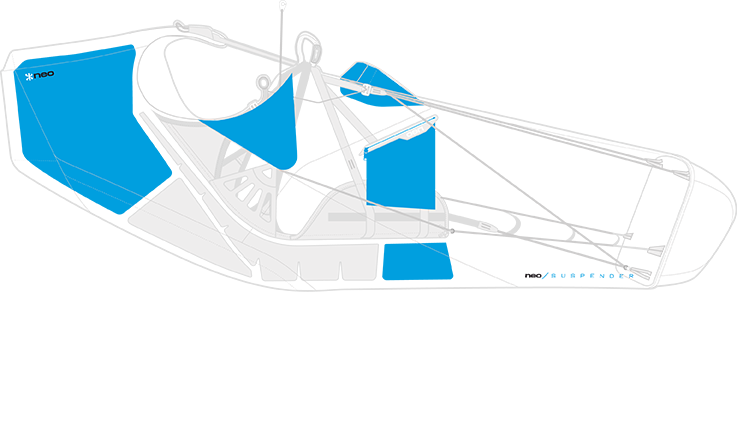 Back pocket
- With routing for hydration system
Underseat pocket 
- For ballast or stowage (optional) 

Cockpit pockets
- Mainpocket
- Power bank
   - Hook knife    
Side pockets
- Radio (right inside)
- Heli kit (left)
- Right zipped or G-chute
- Left zipped or G-chute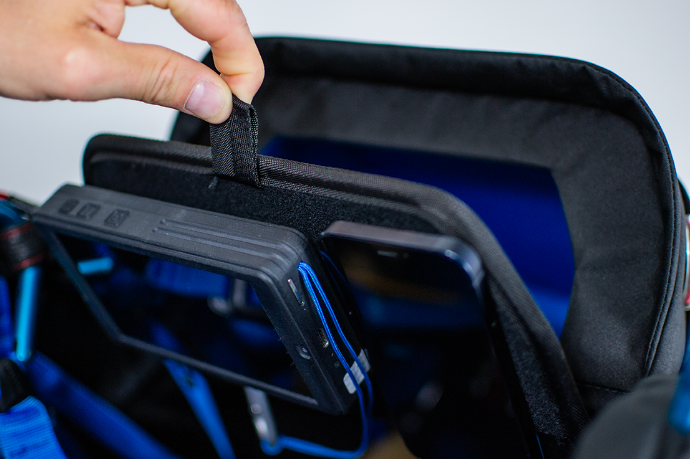 ACCESSIBLE COCKPIT
REMOVABLE INSTRUMENT PANEL
Easily accessible cockpit in flight: the removable instrument panel can be lifted for an easy access to the large compartment, as well as the powerbank pocket, and the cable routing holes on the cockpit. A new kind of velcro was used: It does not catch dirt, it's practical, and safe: strong against shearing but easy to remove. It features 3 loops to secure your instruments.
---
TÉLÉCHARGEMENT
Documents techniques et tutoriels
Manuels d'utilisation - À venir Télécharger 

 

Tutoriel pliage dans le sac  - À venir Visionner 

 
 
FRENCH FINISH AND MANUFACTURE
The Suspender is 100 % manufactured in France.
Local manufacture at NEO's workshop on the shores of Lake Annecy, where our products are designed and tested.
High-end sewing and saddlery work to assemble the 350 parts, 220 of which are fabric.
Responsive warranty and repair at our manufacturing workshop in Doussard (Haute-Savoie, France).